3 minutes reading time
(584 words)
Litter box comparisons you'll want to see
As you think about litter boxes the most important consideration is whether or not your cat will use it. If you want to avoid fighting with your cat to use the box you want one that it fits in comfortable and doesn't have features that scare your cat. You may want to look for a box that allows for odor elimination or one that cleans itself in order to make your life easier. This article will take you through a few of the available types of cat litter boxes that may suit your needs as well as the needs of your cat.
Many people are skeptical over whether or not a hooded litter box is best. The main argument for a hooded box is that it gives the cat more privacy, which is important to cats -or at least that's the theory. There are, however, disadvantages to covered boxes. In many cases they're too small and don't allow the cats to get into a comfortable position inside the box. They can also make it easier for people to ignore the box, as they can't see inside it, so they may not clean it out as frequently. Which one you prefer can only be discovered by testing both types for your cat.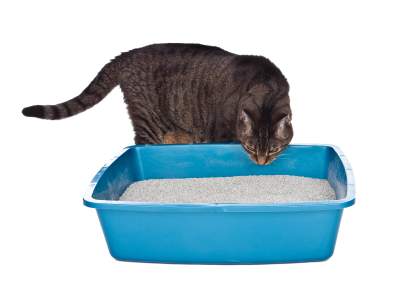 Most people will tell you the biggest concern in choosing a litter box is its size. Many cat owners run into problems because the litter box they choose is too small for their cat. If the box isn't  big enough your cat isn't likely to use it. Cats, just as litter boxes, come in all different sizes so you want a box that is made for the size you need. The cat should be able to stand to its full height in the litter box, as some cats eliminate in this position. So no matter what style of cat litter box you choose, make sure it's the right size for your cat. 
One option is to simple use a cardboard box for your cats litter. Some have found that storage containers are a good option since they tend to be large and made of a sturdy cardboard.
 One simple cut out in the front of the box makes a perfect door for your cat. If this option isn't fancy enough for you keep looking cause there are other options that offer odor control and self cleaning. If all you plan on getting is a simple pan type litter box don't waste your money just use a box.
One system you need to check out is the Booda Dome Clean Step Litter Box which solves many litter box issues and is not expensive. the Booda Dome Clean Step Litter Box is a covered box large enough for two cats. Your cats paws will stay cleaner and less litter will escape the box with the elevated ramp and unique design. The topside filter keeps odors at bay. There are a lot of good features at a very low cost around $30 for the Booda Dome Clean Step Litter Box . 
There are many sizes and styles of kitty litter boxes, available in various prices. If you're experienced with cats, you know that they all have their own personalities, so you have to think about that when you choose a litter box. If you want to change their habits, however, most cats can adjust. There are more options today than ever before, so it shouldn't be too difficult to find one that meets your needs..
Comments
No comments made yet. Be the first to submit a comment