3 minutes reading time
(598 words)
Spring forward with your pet!
When it comes to a change in seasons, there are always signs that herald the season much more than any date on the calendar. In autumn, we look for falling leaves and that kiss of briskness in the air. In winter, it's the first hard frost and the quiet sleep that falls over your garden and the critters who live there. You know it's summer by those first days of low heat that make you feel like you're being pushed right into the sidewalk, the smell of gardens in full bloom, and the wild abandon of so many birds and wild creatures now in full flourish. But spring is more subtle.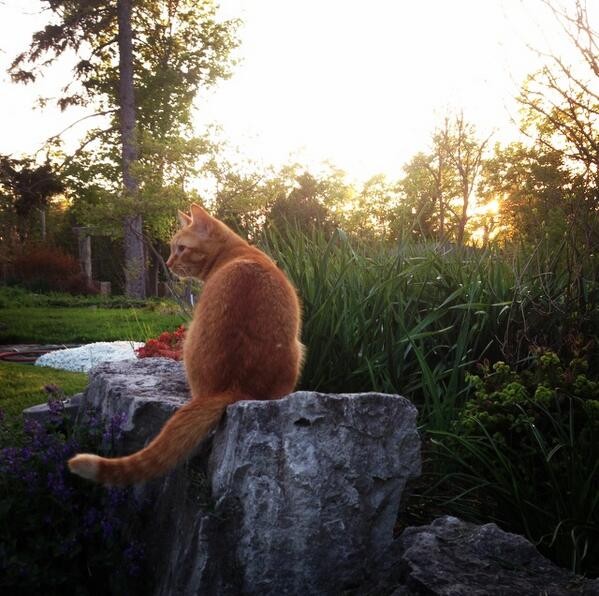 I know some who look for flights of geese making their way back to their Northern homes, the first bulbs pushing through their garden's flooring of fallen leaves and mulch, or even the return of thunderstorms. But for me, my cats are always a clear indicator.
Spring weather brings out the wildness in all my feline friends – feral and house tabby alike. For no seeming reason, they'll puff their tails and run wild-eyed through the house or garden, jumping, and sniffing at everything in sight. I've always affectionately called this 'having fire in your tail.'
The start of spring has always been a good reminder to take my senior kitties in for their bi-annual check-up, but it's also a great time to think about starting a pet garden or planning your garden for this year, or even to start making warm weather travel plans for yourself and your pet. For me, it's also a good time to take a look at feral shelters and food stations to see what repairs and additions need to be made before the warm weather sets in. You might also want to consider creating or updating your emergency plan for yourself and your pets before the summer storms hit.
Everyone has their own spring rituals and, for those with pets, they usually involve your furry friends. For my dog, Lady, spring was her favorite season, a time of long walks down lanes in bloom, limitless mud puddles, and the awakening of squirrels and other critters she loved to watch. For my cats, there will be fresh catnip sprouting, birds returning to enjoy the bird feeders, and longer days with open windows.
For my feral friends, it's the ending of the hardest season, winter, with its chill days and icy nights. They'll be fresh hay in all their little houses and new dishes to replace those that winter's heavy hand damaged. We usually also see a few 'travelers' who pass through the colony in the spring. A few choose to stay, some are lost pets who we're able to help home, and others move on to a new locations after a rest of a day or a week. We usually also see a few Canadian geese who unexpectedly seem to enjoy cat food almost as much as cats. They've been stopping by for the last few years, and they and the cats seem to have an understanding taking turns using the feeders and water dishes.
Whatever your plans for spring, I hope it brings you and your furry friends much joy. It has always been my favorite time of year, a time of change and renewal, but also one of wild beauty. Doug Larsen once said, "Spring is when you feel like whistling even with a shoe full of slush." May your spring days be filled with long dog walks, purring cats, and all the best the season can bring.
Comments
No comments made yet. Be the first to submit a comment