2 minutes reading time
(358 words)
1,000 Days in a cage
This is a long and complicated story that has missed the attention from the media that it deserves. But the repercussion from this event has sentenced nearly 100 dogs to more than 1,000 days in a cage.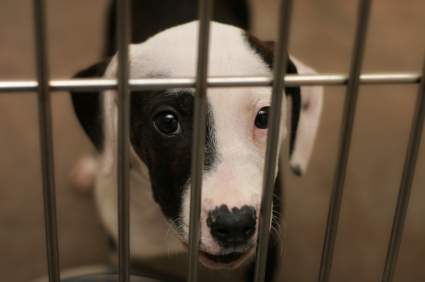 In April 2006 the property of a suspected animal hoarder named Cindy Bemis was raided by Los Angeles, CA Animal Control.  They took into custody 98 dogs that were suffering from starvation, mange and other illnesses.  One of the dogs had to be euthanized because it was so sick and another was taken to a veterinary hospital in critical condition.  The other dogs were distributed among several "county" animal shelters.
Bemis has insisted that she runs a respected animal sanctuary for rescued dogs.  So for the past 2 1/2 years she has fought the charges of neglect and hoarding that were brought against her.  She has been to court on numerous occasions, but because of appeals and other injunctions her case has never been decided.  
And while all of this has been going on, her dogs have been caught in a legal limbo.  They can't be released back to Bemis and they can't be adopted into new homes.  So for the past 2 ½ years nearly 100 dogs have been imprisoned in small dog runs and cages in L.A. County shelters, while their owner goes free. 
In fact Bemis has opened several new animal sanctuaries all around California as she has moved from county to county trying to elude the law.  At one location, the shelter caught on fire, killing 50 dogs and 10 cats.  
Bemis currently resides in Kern County, CA where the laws about running a kennel are lenient. 
Finally last month, Los Angeles Animal Control agreed to let several animal rescue groups' help with the situation.  They play with the dogs, walk them and bring toys.  Several of the pups have been allowed to move into foster homes where they can live with a family until the legal case is decided.   
A touching video about these loving dogs has been made by one of the rescue groups. Here is the link: http://www.youtube.com/watch?v=6NgehUlSVdk
{youtube}6NgehUlSVdk{/youtube}
Comments
No comments made yet. Be the first to submit a comment