2 minutes reading time
(493 words)
Eva's story: a puppy mill survivor
Raids on puppy mills are in the news a lot lately. The stories talk about hundreds of dogs being rescued and taken to animal welfare groups for safety. But do you know what happens after that? Here is one dog's personal story.
Eva lived the first five years of her life in a small cement cell giving her owner one litter of puppies after another. In five years she never saw daylight, never chased a ball and never interacted with people. Then in January, the breeder didn't want her anymore.
That's when Minnesota Boxer Rescue stepped in and saved Eva's life. She would have been euthanized by her owner. The non-profit group rescues unwanted Boxers, rehabilitates them with foster families and finds them new homes.
Jodi Black, Vice President of the organization said, "When Eva first came to us, she was scared.  She didn't know how to walk on a leash and all she did was crouch to the ground. We had to carry her to and from the car. She didn't want to be around humans." "It was heartbreaking."
Then Jodi introduced Eva to her three dogs and slowly the pup came out of her shell and started to do the happy "Boxer wiggle." She learned to play with toys, use a doggie door, and saw that "humans can provide more than just food to her."
On February 20th Eva was ready to be spayed. This was the next step in helping her find a new home. But the simple surgery didn't go well because of the many litters of puppies Eva had in the past. She began to bleed badly and was rushed to an emergency clinic where they pumped out the blood from her abdomen.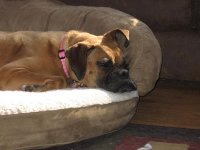 Then Eva's blood pressure dropped and the bleeding started up again so she was transferred to the University of Minnesota for intensive care. The dog was so weak when she arrived that it took two blood transfusions before they could do an exploratory surgery to stop the bleeding. It took 21 hours before Jodi learned that Eva was stable and that a small tear had caused her problems.
Eva is on bed rest and getting stronger everyday. She is expected to make a full recovery. But in saving her life, the volunteers from Minnesota Boxer Rescue incurred more than $6,000 in veterinary bills.
"Our rescue is non-profit and run by a group of volunteers who foster out of our homes," said Black. We need your help to raise money to cover Eva's emergency so we can continue to take-in Boxers that are surrendered or saved from death in shelters."
Jodi says that Eva will be ready to find a new home in a couple of months. She is looking forward to the day when the frightened Boxer can live like the "princess" she was meant to be. You can read Eva's complete story and learn how to make a donation at Minnesota Boxer Rescue.
Comments
No comments made yet. Be the first to submit a comment