2 minutes reading time
(387 words)
New technology to help two-legged pup
In January when a litter of puppies was found on the side of a road in Florida, it was discovered that one of the little guys had only two legs. The litter of eight was taken to an animal rescue group called Pet Rescue by Judy. The puppies that were only days old at the time, have been cared for by volunteers and will soon be adopted.
When the director of the group, Judy Sarullo first looked at the two-legged puppy they named Hope, she worried about his future. She turned to the owner of another famous two-legged dog named Faith for help. Faith's owner had taught the dog to walk upright on her two hind legs and it seemed like a natural choice for Hope to go live with Faith.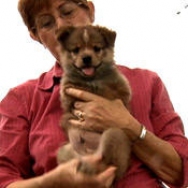 Then negotiations fell apart and Hope went to live in a foster home. Two months later Hope is healthy and thriving with his temporary family. And the rescue group is looking at the latest in technology to make his future bright.
In an interview with Pet Pulse, veterinary orthopedic surgeon Cheryl Tano DVM stated that allowing Hope to move around on only two legs may not be the best option.
"In a cart or wheelchair he will be in a more quadruped position, so in the grand scheme of things that would be better bio-mechanically for him than being a biped," Tano remarked.
However, there is new technology that may be available to the puppy after he is full grown.
"Probably the most innovative is where they're implanting little posts into the bone, which will get bony growth and you can attach a prosthetic limb to that," Tano said.
Hope has a long way to go before any of these decisions will be made. But in the meantime he wrestles with his sister Noel and acts like a regular puppy.
Walker says this about his disability, "He can do everything she does, just a little differently. You don't tell anyone who's handicapped, 'You can never do that,' "Walker explained. "It's just you have to do it a different way, but you can do it."
With Walker by his side and the support of Pet Rescue by Judy, Hope will grow up into a wonderful dog that will be a great pet for a special family.
Comments
No comments made yet. Be the first to submit a comment