2 minutes reading time
(467 words)
Best and Worst Types of Furniture Fabric for Pets
Pets add so much joy to our lives. They provide us with unconditional love. Dogs are famously loyal and like sticking by your side whenever possible. While cats tend to have an independent streak, it's always heartwarming when you earn their affection.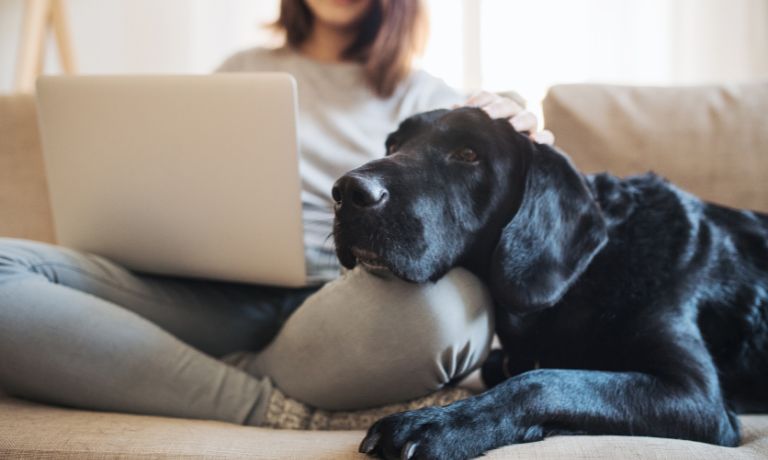 Whether you're a cat or dog person, odds are you know the value of pet-proofing your home. You want to keep your pet safe while minimizing any damage your four-legged friend can cause. Here are the best and worst types of furniture fabric for pets that every pet owner should know.
Furry Factors To Consider
Most breeds of cats and dogs have the propensity to shed. Therefore, you want to choose the right upholstery fabric for your lifestyle and find one that accommodates pet hair. A material that's difficult to vacuum would not lend itself to owning pets, nor would one that shows stains.
Your best bet is to look for durable and simple fabrics that are easy to clean. Aside from shedding, pets can have accidents on furniture. Delicate materials are susceptible to nails and claws. The best practice is to seek out relatively affordable furniture that has enough staying power to hold up to pet hair and potential messes.
Best Types of Furniture Fabric
A tried and true standby for many pet owners is leather. While this option is costly, it's a worthwhile investment to consider. This type of fabric makes hair and mess removal a breeze. However, cats may scratch it and cause lasting damage.
Another route to take is finding fabrics that have a tight weave. Most pet owners vouch for microfiber, as it doesn't cost as much as leather. It also does well at surviving damage from nails and claws.
Pro Tip
Remove pet hair with an upholstery vacuum or lint roller. This tip will keep your furniture looking new.
Worst Types of Furniture Fabric
There are some fabrics pet owners want to avoid. Loose weave fabrics are especially prone to damage from furry friends.
Upholstery materials that fall into this category are suede and silk. These options are difficult to clean, and pet hair tends to stick to them. They are also weak to nails and claws. Damage from our pets can lead to costly repairs, so it's best to avoid these fabrics when possible.
Pro Tip
If you have this kind of upholstery, try buying a slipcover to save your money and yourself from your pet's wrath. Blankets work in a pinch too.
Knowing the best and worst types of furniture fabric for pets enables you to buy a couch or armchair that's pet friendly. If you're not planning on purchasing furniture soon and have an unfriendly material in your living room, take measures to protect it. With either tactic, you'll avoid spending money on expensive upholstery repairs.
Comments
No comments made yet. Be the first to submit a comment