3 minutes reading time
(551 words)
You make bath time lots of fun!
There are two words in nearly every pet parent's life that can instill fear and stress at their very utterance, most notably in winter.  These very same words cause pets across the world to run under the bed, into crates, behind sofas-anything to get away from the dreadful sound of "BATH TIME!"   Nails on a chalkboard are easier on the ears.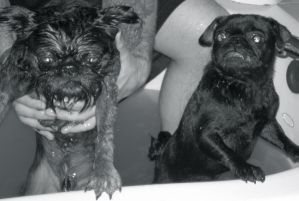 Granted, there are probably a handful of readers out there thinking to themselves, "Well my Rover adores bath time!"  You are the few who seem to have evaded all the typically unfortunate bits of life including the common cold, parking tickets and overcooked dinner.  Dirt practically runs away from your pet as you happily hose him down in your claw-footed bathtub flown in from the South of France.  You might as well stop reading this and go buy a lottery ticket.
For the rest of us, bath time means bringing out the wading boots and lab goggles, throwing on a pair of cut offs and hoping our furry friends will take it easy on us.  In my household, I could swear my two little dogs, Barbara and Benson are allergic to water, the way they howl. Every time they hear the aquatic swoosh of the tub filling up, it is an all out race around the house to get a hold of both of them.  I say "both of them" because if I even attempt to wash one at a time, the other will sit at the bathroom door, screaming in dog language to "Stop hurting my friend" until I finally give in.  If bath time is war, there is no man left behind in this house, but my sanity is certainly a casualty.
When the lather has been washed away, the pups emerge like little coconut scented wet rats. I struggle to dry them before they attempt to dry themselves by shaking violently, covering the white walls with a fine layer of raggedy black hairs.  If I'm feeling very adventurous, I'll break out the blow dryer.  Barbie and Ben react to the ill-willed hot air robot with a contempt they still haven't outgrown in their respective years of bathing.  That's why I tend to let them air dry in their favorite sunny spot in the dining room, while I head to the kitchen for a martini to celebrate a job well done.
Personally, I just can't understand why they wouldn't want to be hand bathed, rubbed down, dried off and combed.  I pay a lot of money for that kind of treatment at the day spa.  Of course there are a plethora of grooming services and animal stylists; many that will even come to your home to take care of these potentially disastrous bathing experiences.
The truth is, I'd rather not miss that time with them.  Every moment spent with your pets is one you can look back on and laugh about later on.
Eventually, they will get used to getting a bath and possibly even (gasp) look forward to it!  Persistence is key.  If not, well…kids will be kids and our pets are no exception.  So when you have an extra hour this weekend, grab that slicker, the bottle of tearless shampoo and bring on the squeaky clean.
Thanks for stopping by Bad Dog Blog this week.  Don't forget to send in photos and pictures of your own naughty and well-loved pets.
Until next week,
Stay bad,
Chonny
Comments
No comments made yet. Be the first to submit a comment